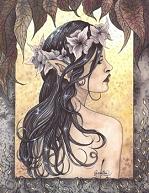 GM
Posts: 1115
Joined: Sun Apr 03, 2005 4:55 pm
The hour is well past midnight, but hours before dawn. What remains of the candlelight in the Inn burns low, allowing soft shadows to flicker about the room. Few patrons are up this late, for many have retired into their bed chambers hours ago. Now is the hour in which the men count their coins, or trades are made in secret in secluded darkness from the eyes of others.

The Valkin'Vi emerges silently from her chambers at the inn. Her bare feet pad softly as she walks across the wooden floor. Her hair is not adorned with its usual embellishments of braids, ribbon, bells and other bobbles. It is flat and dark, hiding her pale face from the light. Her hair cascades down her shoulders and over her purple robe, to which she is clinging to tightly.

She takes no notice if others may be in the room. Her gaze does not waiver. She walks slowly to the other side of the common room. She stops at a large window, staring out into nothing but darkness.