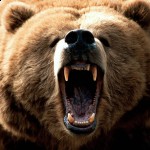 Town Member


Posts: 79
Joined: Fri Aug 30, 2013 1:09 am
Mahto's Love
Acting Commodore Mahto Snowbringer stood on a hill near Dar'dakous. The small tribal village had grown in the past two years. An effective wooden spike wall surrounded the village which nestled itself in a group of hills. Two large flags stood on each side of the gate, the flag of Haven and the newly made emblem of Mahto's tribe. It depicted a phoenix rising from the flames and roaring to the heavens. The phoenix's body was covered in detailed tribal tattoos, similar to the ones Mahto now bore on his arms. He smiled, Gondowon had done a good job with the emblem. Mahto seemed to owe him a lot these days. He looked down at the village square where Christian taught some of the younger Ga'vin the common writing, a gift Mahto had not been given when he was young. Christian got along well with kids, maybe because he acted like one himself. Christian hadn't changed much since they had met so long ago. Mahto envied him in that, so much had changed for Mahto in the last twelve years. He looked to the west where he could barely make out the taller spires in the port town of Korrigan's Landing. Mahto sighed, his time in the village was limited and he knew he would have to ride to the city soon. But, Dreg and Riddle handled his affairs while he visited with his kinsmen. Something he wished he had more time for. He decided that maybe even he needed a break, he took off the black hat that he had been wearing and hung it on a tree branch. The hat had always belonged to Zandron, but he thought he must turn it over to Mahto when Zandron took a leave of absence from the navy. That and the magical sword that came with the Commodore position, which now hung from Mahto's back. That too he took off and leaned against the tree, along with that his shield and own sword. When was the last time he hadn't felt the cold steel against his leg? Even taking off a piece of his equipment felt like taking the world off his back. He slumped against the tree till he sat, his legs extended. He regarded the village with pride, observing the peaceful scene that he knew was only possible because of the benevolence of Haven. Mahto closed his eyes and a face came to mind, one he wished he could forget.
It was a scene from many years ago. She was smiling at him. Her blue eyes were shining as she laughed and turned away, her brown hair flipping behind her back. She loved to pull at his heart strings like that. It had been a time where he thought he couldn't be happier. A year after he had left the Redwind to return to his tribe, he had slew the Bear goddess that plagued his people and he was finally honored. He was no longer the demon Snowbringer but the hero Mahto. He gained his first name, finally, through his honorable deeds. She had taken an interest in him. Granted, as did the other girls his age, but there was something about her that spoke to him. She wasn't innocent, he knew that, maybe that is what enticed him. During her spiritual journey she had made some mistakes, her smiled hided hurt he wanted to mend. She told him he wouldn't understand, and she would just end up hurting him, bogging him down with her pain. But, it wasn't like he was innocent either, he had spent the past four years as a pirate, with all benefits and issues. He had fought to kill. He had physically loved women at a much younger age than most of his tribe, you had to keep up appearances as Captain of the Redwind, which included spending too much time in vile places. Though he spent years longer time on his journey than the other men of his tribe he knew the world better than any of them could have. He fought with more ferocity than men who had seen war before the cataclysm. So why wouldn't she accept him? He loved her. He admitted that now more than he had then. She never truly admitted her love, she skirted around the detail and would laugh at his frustration, she was unbearable at times. It wasn't competition from the other young men of the tribe that kept her away, while many were interested in her physically his love went past that. If only he had truly tried to win her favor. It seemed they would spend time alone together in the forests near his tribe's old village. They would get very close and she would whisper her true thoughts in his ear and his heart burst with joy. He would want to kiss her but his heart held him back, he didn't want to dishonor her or make her afraid of him. She told him he was her favorite in every way and how fond she was of him, then laugh and ask him how his day was, ignoring whatever serious comment she had made. He would tell her that he felt for her, but he never told her that he loved her, too afraid of her reaction.
A year past in the tribe, he became a trusted companion of the Chieftain, and even won the affections of his daughter. But, Mahto could not leave behind the girl that he had loved for so long. His Chieftain made himself clear that he wished Mahto as a successor, but would lose favor if he didn't show interest marrying his daughter. Mahto admitted that that wasn't an awful fate, she was a pretty girl and he could see himself being happy with her. That's when Mahto decided he would seek out the closest thing he had for a father. Mahto traveled to Haven for the first time to find Zandron.
He carried his shield on his back as he walked out of the village, his journey was no secret, but the village did not bid him goodbye as they saw the deepest thought etched on Mahto's burned face. She stopped him just as he walked through the gate.
"Mahto!" She yelled out from behind him. He turned, a smile shown on his face, a smile that would not be repeated anytime soon.
"What is it woman?" He joked, smiling even broader now. She ran up to him and embraced him tightly, even she knew why he had to leave. Suddenly he felt the urge to tell her the truth. He held his tongue again, she knew his true feeling for she could feel his heartbeat against her cheek as she embraced him. Mahto reached his big arms and gave her a mighty bear hug. She whispered something into his chest which he couldn't hear. He leaned down and inquired what she had said. Their faces close together she whispered:
"I…" She stopped to think, making sure she chose her words correctly. His heart was pounding loud in anticipation of what she might finally admit. She then rushed out the words she always did: "I'm just so very fond of you Mahto." His heart slowed, did she not understand she was at risk of losing him to another? "I hope you make the right choice and marry the Chief's daughter, you can't be hung up on me forever, you know?" Maho stared blankly at her, tears welled in her eyes. She considered herself the martyr. She backed away from him. "You should be chief someday, you're the best man here and we all know it. Any girl would be blessed to have you." She wiped something from her face quickly and looked up at the sky. "Is it raining? I think I just felt something." As if the drop of water on her face had been from Father Sky and not her own blue eyes. Mahto's face set into a frown. The mothers were right to tell their children to not make faces like that, for they might freeze that way, for Mahto's face would never change from that frown again.
"If that is the way you feel."
He declared as he turned to walk away. She started to protest, but she knew her words would just make him sadder. She watched him walk away for the last time.
It was just a month that he had been gone.
He had made a decision as he reached the field where his village lay, the great forest shaded it from view, but even then he could see the smoke that raised from his home. He ran there, faster than he had ever run before. There was nothing he could have done, his crew mates reminded him of that later, but he did not believe it. His tribe lay dead throughout the village but only one body concerned him. He found her in the doorway of his tent, as if she ran to seek protection from someone who was not there to help. He held her body in anguish and he cried toward the heavens. He screamed in agony as if his soul had been ripped from his body through some cruel and perverse magic. He reached to hold her hand and found the note, hastily scribbled with charcoal. He recognized his name at the top, but his illiterateness stopped him from reading what seemed like a short message. He always kept the note on him, but never had it translated for fear of disappointment.
His cry had attracted some attackers left behind from the main horde of murderers that had struck his tribe. He rose slowly as he heard them approach his hand tightened around the sword that seemed limp next to his body. The three bandits snickered at what seemed like easy prey. They would know agony. He looked down at her blue eyes. Then turned toward the attackers, his face grim. To this day he hadn't killed anyone so brutally.
Under the tree on the hill overlooking Dar'dakous Mahto Snowbringer's face was wet with tears of past shadows. He held back the agony he wished to put to voice so not to alert the young Ga'vin to his pain. He gripped his burnt face tightly in his hands and he didn't notice Christian in front of him on the hill. Christian said some bullshit about love and faith. Mahto wished he cared more for Christian's immature wisdom. He merely reached into his pocket and handed Christian a crumpled piece of parchment.
"Read it…out loud." Mahto sobbed, he could not live in mystery any longer.
Christian looked down at the parchment spoke, his usual tenor was serious and thoughtful:
"I always meant to say I loved you."
Last edited by
Mahto Snowbringer
on Fri Jun 20, 2014 12:58 am, edited 1 time in total.
Mahto Snowbringer:
Commodore of Haven's Royal Navy
Commandant of Haven's Marine Force
Leader of The Savage Phoenix Tribe and their village of Dar'dakous
Captain of "The Chimera"

"Fortune Favors the Brave."