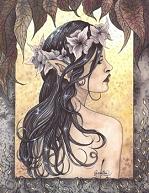 GM
Posts: 1119
Joined: Sun Apr 03, 2005 4:55 pm
I was going to PM you this, but I couldn't find your user name.
http://www.aradanicostumes.com/
They have the latex ear tips much like Tim's. I know they offer them painted in a few skin tones. (you might be able to e-mail them and see if they can offer something in-between if needed). In the last year or so they did start selling some silicone ear tips, but I don't like the way the look or the size for the price they are asking.
http://www.funfx.com/index.aspx
This is where I got my silicone ear tips. They don't make them or sell them any more, but they actually might have a small supply of them somewhere. If you're interested in a pair, I would HIGHLY recommend calling them and ask to speak to Victor (might be spelled Viktor) as he's the man in charge. It might take a bit for him to get back to you.. you might have to call and e-mail a few times as I'm sure he's currently busy with the Halloween season. Anyway, call and ask about them. I know they *HAD* different skin tones way back when. Also, to gauge size, my huge ears were medium.