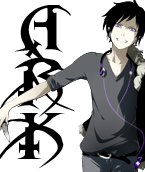 Town Member


Posts: 1148
Joined: Sat Jan 12, 2008 12:18 am
Location: (\__/) /\_/\
The Seraphim Fleet had long since returned to their berth near Dawnvale for the winter. there was one major waterway that led to the harbor were the fleet was at anchor, it had become known by the locals as "White wing Harbor" because of the fleets flag and was still undergoing some construction in areas, mostly additional crew quarters and the like, the Lady was too kind.

Ark was walking down the large expanse of water from the harbor out to sea, well it was no longer water but Ice. Ark learned in a very short time how to manipulate ice and snow, it felt like riding a horse, like he knew it already but just realized it, it was very confusing to say the least. As he walked down the expanse of water it turned to ice shore to shore in front of him as he walked and even frosted the grass, plants, and trees just along the shore. The markings on his unnaturally white arms glowed a faint purple as he walked.

Some small children ran and collected this new found snow and began hurling it and one another, their mother close by watching to make sure nobody played too rough. She looked up and waved at Ark and he let a smile play and waved back as he continued walking down the river. A voice came over his shoulder, a cold voice, another woman.

V: "I would have been done by now, I also would not have had to actually be here, nor would I make pleasantries with the locals when your concentration should be on the spell."

Ark looked over only slightly and caught a bit of the white hair in the wind before looking forward continuing what he was doing.

A: "its my first time, and it makes me feel better to be here, the locals too, I miss normal people."

V: "so your not normal then?"

A: "not anymore, some things that are oh so simple are just out of reach for people like us"

V: "you make it sound like its a high price to pay."

A: "it was too high for you."

V: ". . ."

A: "adventurers, mages, warriors, all kinds of people flock to Haven, well the Vanguard alliance now, to live."

V: "so?"

A: "this is not were people go to live its where they go to die, how many of our friends got to grow old or die happy."

V: "i am sure the Dwarves die very happy, Orcs too probably."

A: "you get my point, how many now lay with you."

V: ". . ."

Some people were still dragging their boats out of the water ahead of Ark, he would stop and wait for them to be clear before proceeding on and icing the river. he didn't mind waiting and would shout conversations back and forth on the shore with them while he waited for them to finish. everyone was very pleasant despite the oncoming winter.

V: "i would have just iced the boats over."

A: "it is really no wonder why people called you a witch."

V: "slaughter a whole group of bandits and nobody bats and eye, but raise one as a zombie and everyone looses their mind."

Ark began to laugh slightly as he heard footsteps running up behind him, he turned around slowly to find a Dawnvale citizen running up behind him, he slid to an awkward stop on the ice in front of Ark. "excuse me I was just curious. . .I am sorry were you talking with someone?" Ark stood on the ice alone and looked around, only him. "nope only talking to myself, how can I help you?" the man looked around and continued. "some of the kids back there ate some of the snow and we were worried that it might do something to them!" Ark chuckled "no no no its perfectly safe, the same as normal snow just a little early." the man breathed a sigh of relief "Oh thank goodness." he turned and began trotting off back down the ice and shouted back as he went. "thanks a lot we appreciate what your doing." Ark nodded, a slightly pointless gesture as there was no way the man could see it.

He laughed slightly again as he turned and continued his way down the river, turning it to ice as he went.
Last edited by
Ark
on Tue Feb 17, 2015 7:55 pm, edited 1 time in total.
I
f
i
t
s
t
o
r
m
s
o
r
s
n
o
w
s
,
o
r
t
h
e
s
u
n
s
m
i
l
e
s
o
n
u
s
.
T
h
e
d
a
y
b
u
r
n
i
n
g
h
o
t
,
o
r
i
c
e
c
o
l
d
o
f
n
i
g
h
t
.
D
u
s
t
y
a
r
e
o
u
r
f
a
c
e
s
,
b
u
t
j
o
y
f
u
l
a
r
e
o
u
r
m
i
n
d
s
!
-
P
a
n
z
e
r
l
i
e
d
______________________________________________________________________
Brian: Do not respond, quote, argue, debate, or try to start a conversation about anything I say or post, directly or indirectly, specifically or implicitly. At the very least I will consider it stalking, and going further consider it harassing, belittling, demeaning, mocking, or insulting. I will immediately report it as such and push to request that your forum privileges be at least suspended or terminated, and going further request your LARP attendance privileges be suspended or terminated as per the Final Haven Code of Conduct. this is your notice and warning.
______________________________________________________________________
If you have an opinion on something I say, or a particular topic, but would prefer to keep your opinion private (or complain) then
CLICK HERE!
to send a private message to
GM-Mike
the head GM and let him know.