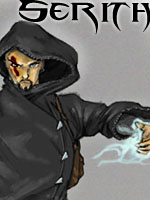 GM
Posts: 557
Joined: Fri May 19, 2006 11:36 am
Location: Lowell, MI
*Serith sits out at a roaring fire pouring over multiple scrolls and such, as a look of near exhaustion and strife mark his features prominently.

*Throwing a scroll down in disgust Serith just puts his hands through his hair with a exagerated sigh.

"When I find a way to bring you both back, I think im gonna kick both of your asses back to the nether."

*Serith picks up his discarded scroll and then turns as a Farmer from Woodhaven approaches. Serith tries to hide his anger from his fruitless research as the man approaches, and with his best poker face tries to convey a sense of calm.

"Hello Issac, how are the preperations going for the early thaw harvest?"

*The man just smirks and says
"Well Sir, but there are more issues with the equipment, and the craftsmen are unable to fix it...again."

*Serith stands and clasps Issac upon the shoulder

"We can only work with what we have got, until news from the north and our mine supplies come in, we only have sparse material to spare. Make do with what we can, and I will see about getting some new plows, or at least something to ease the burden.

*Issac smiles as he nods and heads back to the outskirts of Haven Proper.

*Serith looks up towards the sky and just mutters

"Leaving me to deal with the everyday minutiae of Woodhaven.... Fantastic gift you two, and here I didnt get you guys anything."

*Serith collects up the scrolls and sits back infront of the fire and begins reading again as he conjures up a small orb of essence energy and delicately moves it around his hand as something akin to a stress reliever.
Serith Darkheart

"I dont make Threats....Only Promises"